Word of Truth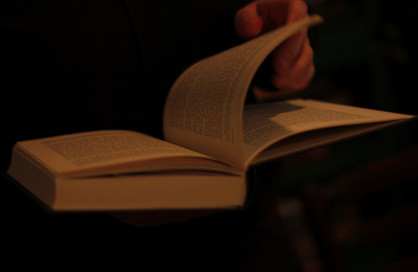 What is the Word of Truth?..... The word of truth is GOD's TRUTH not MAN's. In order to see the TRUTH, we must allow the THE HOLY SPIRIT TO LEAD. We have allowed MAN's traditions and ways of thinking move us apart from GOD's TRUTH and Love building us together.2 Thessalonians 2:13
13 But we are bound to give thanks alway to God for you, brethren beloved of the Lord, because God hath from the beginning chosen you to salvation through sanctification of the Spirit and belief of the truth:1 John 4:6-84 Ye are of God, little children, and have overcome them: because greater is he that is in you, than he that is in the world.
5 They are of the world: therefore speak they of the world, and the world heareth them.
6 We are of God: he that knoweth God heareth us; he that is not of God heareth not us. Hereby know we the spirit of truth, and the spirit of error.
7 Beloved, let us love one another: for love is of God; and every one that loveth is born of God, and knoweth God.
8 He that loveth not knoweth not God; for God is love.
Truth & Faith Ministries never wants you take our word, but allow the Spirit of God and the Holy Ghost to teach you through our divine messages and lessons being taught; Not Tradition or MAN's ways.John 14:26
26 But the Comforter, which is the Holy Ghost, whom the Father will send in my name, he shall teach you all things, and bring all things to your remembrance, whatsoever I have said unto you.Mark 7: 9-13 9 And he said unto them, Full well ye reject the commandment of God, that ye may keep your own tradition.
10 For Moses said, Honour thy father and thy mother; and, Whoso curseth father or mother, let him die the death:
11 But ye say, If a man shall say to his father or mother, It is Corban, that is to say, a gift, by whatsoever thou mightest be profited by me; he shall be free.
12 And ye suffer him no more to do ought for his father or his mother;
13 Making the word of God of none effect through your tradition, which ye have delivered: and many such like things do ye.
---
NEVER BECOME A SCHOLAR OR LEAN TO YOUR OWN UNDERSTANDING.....
---
Read and View Our Bible Studies. Learn the foundations for your life and the mysteries God reveal for you to increase your Power & Faith in HIM and for Yourself!

---

Watch Truth & Faith Sermons given by Rev. Dr. Hunt and Special Guest allowing the HOLY SPIRT of God to lead. Our foundation is God's Love and edifiying you with Turth to inspire your life and help you with the day to day things that you may face. We want you to obtain All Blessings & Gifts God has for you.

---