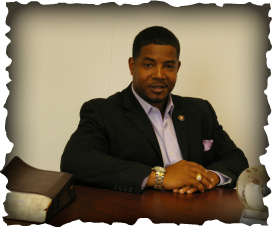 Rev. Dr. Derrick A. Hunt was introduced to ministry and teachings of Christ at an early age coming from a linage of God's Labors and Pastors such as his Great Grandfather the late Rev. Oather Trainer and Grandfather the late Rev. Dr. Arthur Trainer of Mount Olive Baptist Church in Port Arthur, Texas. Rev. Dr. Hunt gives special honor and contribution to his Grandmother Betty Fontenot for truly teaching and introducing God's word to all her children and grandchildren as the scripture of (KJV)Proverbs 22:6 states "Train up a child in the way he should go: and when he is old, he will not depart from it."

As a youth, Rev Dr. Hunt was a member of Church of Jesus Christ from God Apostolic Fellowship in Port Arthur, Texas under the leadership of Bishop Curly Washington and was baptized in the name of Christ, Jesus by Pastor Tom Gilliam of Church of Jesus Christ from God Apostolic Fellowship in El Vista, Texas. During Rev. Dr. Hunt's early years of his life he, like most people, had his ups and downs dealing with life struggles regarding spirituality, relationships, self revelation and placement, but never forgetting the teachings of God, Christ, and Fellowship.

In 1997 Rev. Dr. Hunt joined the United States Marine Corps and after returning home after being honorably discharged due to injuries received from combat (OIF and OEF) he founded InSpiration Life Corp. in 2004 where God established his Ministry for Counseling and Youth Ministry. In 2010 Rev Dr. Hunt gave his calling to Ministry under the Leadership of the Late Pastor Rev. Dr. Melvin. A. Hemphill and Minister Dr. Janet L. Hemphill of New Israel Missionary Baptist Church and furthered his spiritual training and education by attending Evangelistic Fellowship Services & Theological Training in Port Arthur, Texas where he earned his Doctor of Divinity. In 2012 Rev. Dr. Hunt under the leadership of Minister Dr. J. A. Hemphill administratively founded New Israel Full Gospel 501 c 3. In 2013 after truly submitting and accepting God's Gift as a Minister of God he understood the importance for loving all God's Children and teaching the gospels of Christ being led by the Holy Ghost to save the lost and encourage the willing. He gives special honor and love to Rev. Quincy L. (QL) Jackson pastor of St. Paul Missionary Baptist Church in Houston Texas for his continued support and guidance while Dr. Hunt grew and developed into the true "Calling" God appointed and purposed him for. Rev. Dr. Hunt's passion is always being the "HUMBLE SERVANT" helping others with life and spiritual enlightenment wherever he can, which he feels is the most important responsibility of his life when it comes to serving others. He also serves as an administrator for Evangelistic Fellowship Services and Theological Training. In 2014 Rev. Dr. Hunt, receiving a vision from God, began his journey being led by the Spirit for establishing Truth & Faith Ministries which was founded in 2015 with the blessing of God to share the word and Spiritual messages throughout the world regarding Truth and Faith.

Professionally Rev. Dr. Hunt performed various entrepreneur and employment roles and duties after being released for United States Marine Corps. He started in the security industry with his own investigation company and later served as a Peace (police) Officer of the State of Texas. Dr. Hunt served as an Operations Manager for a fortune 500 company and one of the largest security companies in the world where he oversaw security activities for Government and Commercial accounts. After expanding his knowledge and experience in business, Dr. Hunt became an independent business consultant specializing in profit recovery for other firms and organizations. Dr. Hunt also contracted employment with multiple corporations such as Employee Benefits Services, Gulf Coast Windows, and Bush Intercontinental Airport (IAH) of Houston, Texas where he held contract titles such as COO, Regional Director, and Operations Manager managing, developing, and maintaining effective operations, and setting up regional offices for perspective companies. Rev Dr. Hunt has owned several companies and is now the CEO of a business management firm headquartered in Houston, Texas. He furthered his education by attending Lamar University, American Inter-Continental University (A.I.U.) earning his Bachelors of Business Administration (BBA) and Master in Business Administration (MBA).
---